Electric Chain Hoist is Motorized Chain Pulley Block Which is operated with remote for easy use.
In this kind of hoist a material can be properly handled with care

Electric chain hoist is used to carry objects
Electric chain hoist is easy to operate, due to the electric functions.
Electric Chain Hoist is available from 0.5 ton to 10 ton.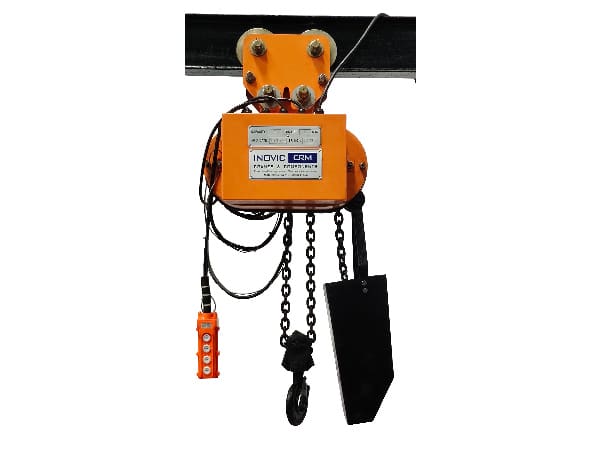 CAPACITY : 1 Ton to 10 Ton
LIFTING : 3 M to 20 M
HT Speed : 4 mpm to 6 mpm
CT Speed : 12 mpm to 18 mpm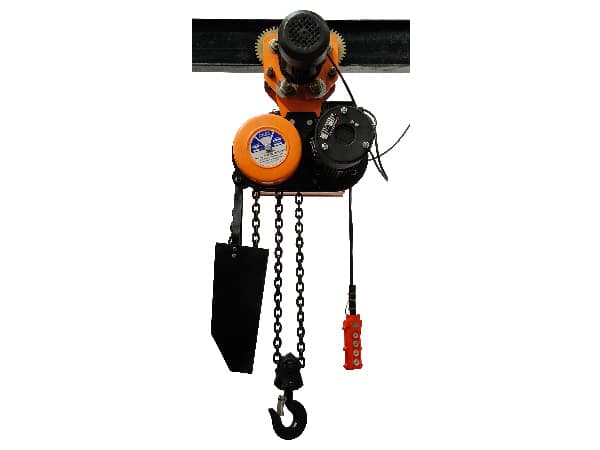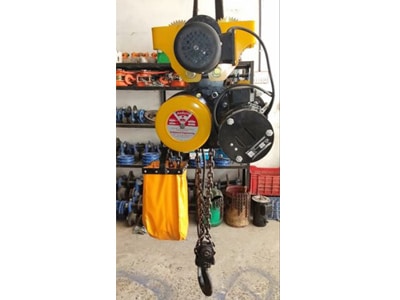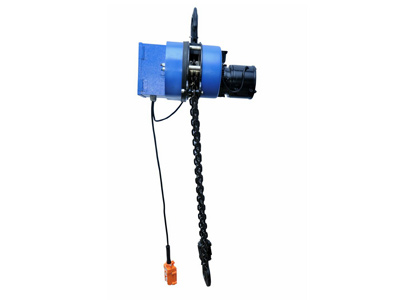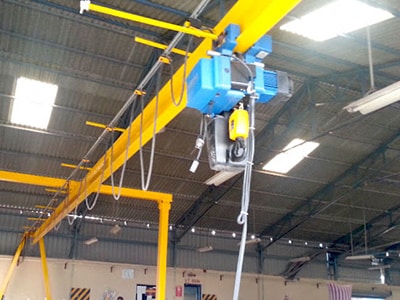 Mono-Rail chain hoist is easy to operate, due to the electric
Mono-Rail chain hoist is Available from 5 ton to 10 ton.
Monorail cranes are most effective in production applications where materials are repetitively moved from one point to The monorail hoist and trolley run on a single stationary beam-a cost-effective alternative to bridge or gantry cranes for applications that require limited lifting capacity. Examples include assembly operations, transport of materials to workstations and lines where parts are blasted, painted or coated. Monorails also serve as a material handling alternative in places that cannot accommodate a bridge crane.
Considerations : Monorail cranes provide only two axes of hook movement: up/down via the hoist and forward/back via the monorail If your application requires lateral motion, you'll need to consider other alternatives such as a bridge or gantry crane.
Curvature Chain hoist is easy to operate, due to the electric functions.
Curvature Chain hoist is Available in 0.5 ton to 10 ton.
Shafts mounted on antifriction bearings. Totally enclosed gearbox with precision machine cut gears and pinions. Rope drums made from seamless pipe.
 Assembly facilitating easy maintenance TEFC squirrel cage motors with high starting torque to work on 415V, 3Ph, 50Hz power supply.
Disc type/Shoe type Electromagnetic breaks for hoisting & cross travel for safe operation.
Safety latches on hook. Hook supporting on thrust bearings for 360Degree swivel.
Micro speed for hoisting and cross travels shall be provided if required.
 Overload protection device if required.
 Radio Remote Control through operation if required.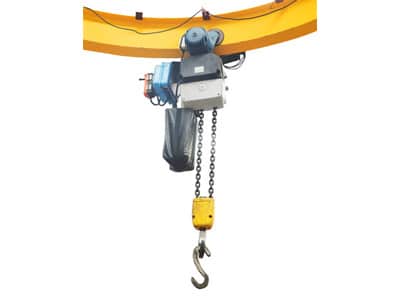 Indef Baby Chain hoist is easy to operate, due to the electric functions.
Indef Baby Chain hoist Is available in 1 ton & 2 ton.
Assured quality and interchangeability of parts. Grade 80 load chain. Higher safety factor & longer chain life. Truly modular constructor. Easily accessible separate brake, motor, gearbox & panel unit. Assured reliability Precision machine cut case hardened alloy steel gears and load chain wheel. Long life, noiseless operation. Built in control panel with std. electrical.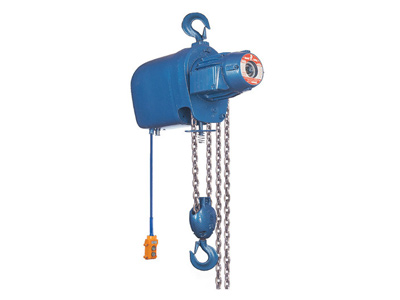 Manual Chain Pulley Block
Manual Chain pulley block is cost effective and low effort model.
A Manual Chain Pulley Block is available from 5 ton to 5 ton.
Manual chain hoists mainly used in factories, mines, construction sites, wharves, docks, warehouses and other places, for the installation of equipment, lifting goods, especially for open and no power supply shows its superiority.
Chain hoists generally use one-way ratchet friction disc brake, brake in the load on their own, with the ratchet pawl engages under the action of the spring, the brake safety.
meet European CE  safety standards.