Goliath Crane Manufacturer / Goliath Gantry Cranes Supplier
Inovic CRM Engineering
Goliath Crane Manufacturer
and supplier depending on the requirement of the customers. Gantry Cranes or Goliath Cranes are very Versatile Cranes mainly used for activities in steel stock yards, pre-cast segment yards, construction sites and other outdoor applications. We are proven manufacturer and supplier of
Goliath Crane
which are robust and capable of withstanding the rigors of a variety of applications from steel yards to construction sites. These offered cranes are suitable where the existing factory structure cannot bear the wheel loads of an overhead crane. They can also be provided with multiple hoisting trolleys running on the same bridge or auxiliary hoisting mechanisms on the main trolley.
Goliath crane Specifications:
CAPACITY           : 1 Ton to 125 Ton
SPAN                   : 6 M to 50 M
LIFTING               : 6 M to 20 M
Application         :  Ship Yard
                              : Open Yard Storage
                              : Steel Yard
                              : Pipe Industries
                              : Marble Industries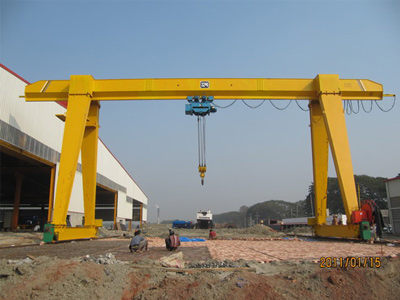 Our Goliath/ Gantry EOT cranes offer the following benefits:
Gantry Cranes are an ideal alternative in buildings which are unable to support an overhead crane.
They're also optimal for lifting and moving material and equipment located within limited spaces.
Gantries consist of a crossbeam supported by vertical legs, designed to ride on casters or floor channels.
Advantages include portability as well as easy assembly.
Frames can be provided in all steel or aluminum construction. Gantry cranes are also available in various capacities and with fixed or adjustable heights and spans.
Key Tag:- Goliath Crane Manufacturer | Goliath Gantry Cranes Supplier | Semi Goliath Crane | Semi Goliath Crane Manufacturer | Semi Goliath Crane Exporter | Semi Goliath Crane in India | Semi Goliath Crane Manufacturer in gujarat | Semi Goliath Crane Specification